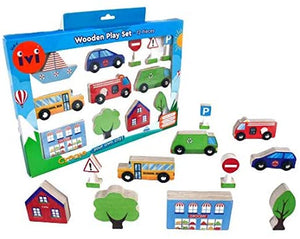 This wooden play set from IVI comes with everything you need for endless imaginative fun. 

The Mini City Wooden Play Set includes 12 moving and stationary pieces to accompany any little ones imaginative play collection. 
Includes: 2 x trees, 1 x boat, 1 x car, 1 x school bus, 1 x fire engine, 1 x garbage truck, 2 x buildings (Grocery & Cafe) and 3 x road signs
Suitable for ages 3 years and up
Encourage imagination and pretend play
Makes a great gift for 3- to 6-year-olds for screen-free, Pretend Play
Bundle your wooden cars, trucks and traffic signs with IVI 3D Play Carpet for complete play set!