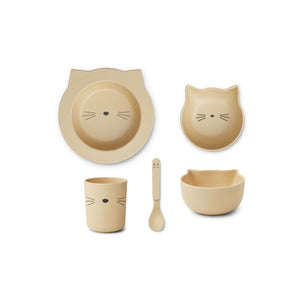 BABY MEALTIME SET
The Joana Baby Set includes everything your baby needs at mealtime. The set contains a plate, bowl, cup, and a spoon. Delivered in a beautiful box, it's the perfect gift for the little ones.
Material: 100% PLA - renewable materials that are plant-based rather than fossil-based.
Silky smooth and soft to touch
Dishwasher safe
DETALJERDimensions:
CUP: DIAMETER (CM) 6, HEIGHT (CM) 8, VOLUME (L) 130.
PLATE: DIAMETER (CM) 12.5, HEIGHT (CM) 5.
BOWL: DIAMETER (CM) 10, HEIGHT (CM) 5.
SPOON: LENGHT (CM) 13