The Maxi-Cosi Rock offers excellent car safety as it complies with the latest i-Size (R129) car seat legislation. Besides maximal safety, the Rock also has a comfortable baby-hugg inlay for a better fit and lying position for the newborn. For the comfort of bigger babies and safety in case of side impact collisions, impact-absorbing material is added to the top side wings. Maxi-Cosi recommends using the Rock with the FamilyFix One i-Size base, providing the safest ISOFIX installation and a highly convenient Click & Go system.
Installation
One, two or more cars? Whether your baby only travels with you, with a second car or with your baby's grandparents' car, our Maxi-Cosi Rock always fits. The baby car seat can either be attached to the seat of your car by the seat belt or by the ISOFIX anchorage points of your car. The installation is elaborately explained in our user manual, guiding you step by step for a secure fit.
For installation using ISOFIX you will need an ISOFIX base. Connect the base to your car's ISOFIX connectors and leave it installed in the car. This way, our Rock car seat is fitted onto the base with a simple "click", every time you need to get in- and out of the car. Visual indicators on the base notify you, when your Maxi-Cosi car seat is correctly fitted and you are ready to "go".
Rock can be installed in combination with the FamilyFix One i-Size base.
Safety

At Maxi-Cosi we have carried over 50 million babies home from the hospital. External crash test scores, such as the German automobile organisation ADAC (Allgemeneir Deutscher Automobil-Club), test our Maxi-Cosi car seats on dynamic safety and ease of use.
Maxi-Cosi Rock has been tested by ADAC in combination with Maxi-Cosi FamilyFix One i-Size. The test scores resulted in a good score for all safety tests. Our safe and comfortable Rock car seat is equipped with Side Protection System, meaning that in case of a harmful side impact, Maxi-Cosi Rock's SPS (Side Protection System) reduces the risk of an injury on your baby.
Additionally, Rock also has improved impact-absorbing material, making the baby car seat compliant with the latest European car seat safety standard i-Size. The best safety for your baby.
Besides safety, Rock also has a good rating in ease of use, because of the easy-to-use Click & Go installation with ISOFIX base. To reduce the risk of incorrect installation we, as Maxi-Cosi, recommend to always install our Rock car seat with the FamilyFix One i-Size base. Most first-time parents install our baby car seats correctly, thanks to the easy Click & Go installation.
A safe place for your baby
Because we care about giving you as a parent the safest car seat, we have designed our Maxi-Cosi Rock to comply with the latest i-Size car seat regulation. By adding improved impact-absorbing material to the top side of each wing, Rock is an i-Size car seat. And a super safe place for your baby in the car.
Besides safety, our baby car seat is comfortable and convenient both for your baby and for you as a parent. The seat has extra padding and includes a comfortable baby-hugg inlay. This inlay is particularly designed for your newborn baby for a perfect fit to enhance comfort and safety.
Click & Go installation - in combination with ISOFIX base – allows you to "click" our Rock onto a base that confirms a correct installation, reducing the risk of doing it wrong. Continue to use the Maxi-Cosi base in combination with a toddler car seat, for longer rear-facing travel. Experts recommend to travel rear-facing up to 4 years, because of the better protection of your little one's head and neck. Also, a great value for you, since you are able to use the ISOFIX base for up to 4 years!
Removable cover
As our Rock will get dirty after daily use, most likely, or your little one could get car sick at times, Maxi-Cosi's car seat cover can easily be removed. It is machine washable for easy cleaning, no matter what happens.
Travel system
Going for a fresh walk in the park, a short visit to grandparents or a quick stop at the supermarket? Use our i-Size car seat in combination with stroller by clicking Rock onto it.
Create a complete and practical travel system, by combining our car seat with a Maxi-Cosi stroller for the perfect match.
Maxi-Cosi Rock is approved in the airplane (TUV certification) and can come along on your holidays.
Why choose Rock?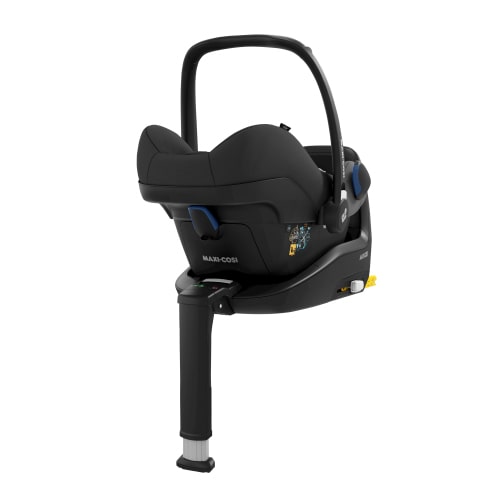 i-Size safety
Complies with the latest i-Size (R129) car seat legislation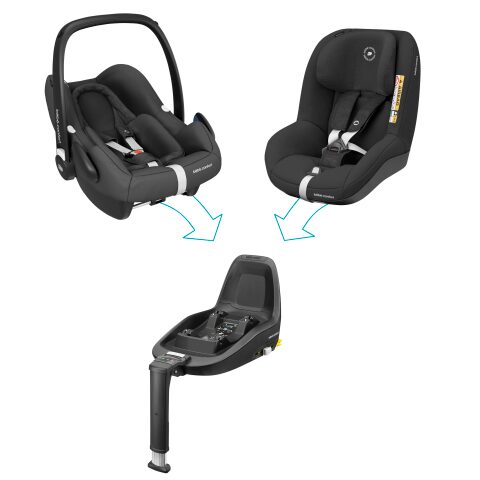 Smart i-Size car seat Family
A solution from birth up to 4 years in combination with FamilyFix One i-Size and Pearl Smart i-Size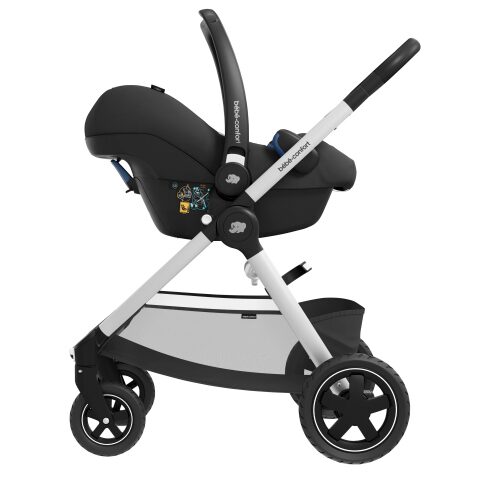 Flexible travel system
Compatible with all Maxi-Cosi, Quinny and many other strollers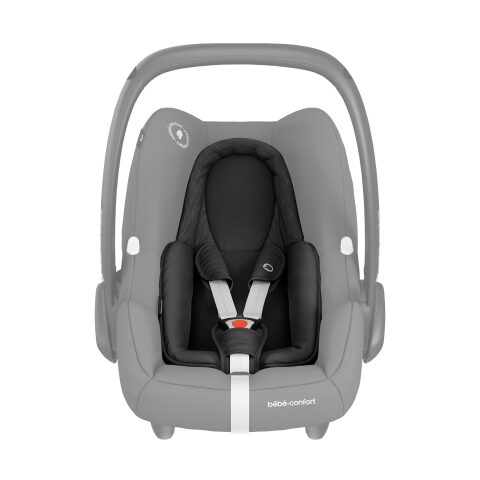 Comfortable baby-hugg inlay
Inlay offers a better fit and lying position for the newborn
Features:

Norm: i-Size/ R129
Installation with 2way Fix (not included in delivery!) or car's own seat belt
Only for using in a rear-facing mode
Part of the 2WayFamily concept
Including set insert and sun canopy
Three-point harness
Side Protection System, shock-absorbing materials
Certified for aircraft travel
Made in Europe
Recommended Age:

 Suitable for 9 months and above